---
After a national survey meant to assess the representation of "transgender and gender nonconforming" undergrads in science, technology, engineering and math fields elicited a major dose of sarcasm and insults, five woke researchers have written a paper arguing the responses are proof that "fascist ideologues" are "living 'inside the house' of engineering and computer science."
(Article by Tyler Durden republished from ZeroHedge.com)
Of 723 responses, only 299 were considered valid, and 50, or 15%, were classified as "malicious." True to form, the researchers — all associated with Oregon State University — also claim injury from unwelcome words:
"The malicious words and slurs directed towards our research team had a profound impact on [our] morale and mental health…particularly for one of our graduate student researchers…who was already in therapy for anxiety and depression regarding online anti-trans rhetoric" and "had to be taken off the project to heal from traumatic harm."
Asked about their gender, many respondents identified as attack helicopters, a long-standing meme that mocks woke culture's encouragement of people to "identify" as whatever they want. Comically, the authors took special offense that many respondents specifically chose the best-known attack helicopter:
"It is notable that the specific descriptor of an Apache Attack Helicopter is referenced by several different participants—itself a synthesis and reflection of U.S. military force and the appropriation of Indigenous language by colonizers."
The 28-page paper is titled "Attack Helicopters and White Supremacy: Interpreting Malicious Responses to an Online Questionnaire about Transgender Undergraduate Engineering and Computer Science Student Experiences." It was rejected by multiple engineering-education journals before finding a home at "Bulletin of Applied Transgender Studies," which Northwestern University alumni can proudly claim as their alma mater's contribution to society.
"Online memes associated with white nationalist and fascist movements were present throughout the data, alongside memes and content referencing gaming and 'nerd' culture," wrote the authors, who call for academia to face STEM's surging fascist menace head-on, as the survey results demonstrate "social justice STEM education must include perspectives on online hate radicalization and center anti-colonial, intersectional solidarity organizing as its opposition."
There are plenty more word-salads strewn through the 28-page paper. Rather than ranch dressing, they're served with a splash of Marxism:
"The university at its most ideal can be envisioned as 'a central site for revolutionary struggle, a site where we can work to educate for critical consciousness' using 'a pedagogy of liberation.'"
"Identities such as transgender status in STEM teaching should similarly not be taught as 'single issues' but be conceptualized as one component of our multifaceted experiences with power and oppression—and that categories such as race, gender, and sexuality have roots in European colonial logics shared by fascist movements."
"Engineering graduates in the U.S. frequently work in fields such as fossil fuels, defense, construction, and technology upon graduation, and could be taught about these field's relationships with national and global racial capitalism."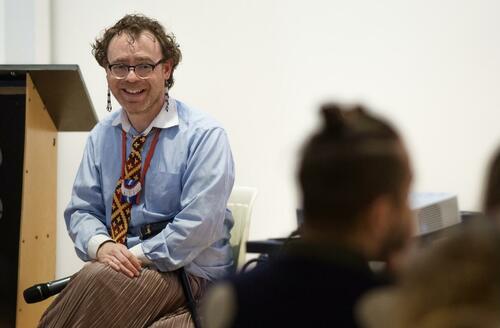 Keeping in mind that $5 Amazon gift cards were used as an enticement to participate, here's a sampling of the responses that sent the study's lead data analyst fleeing into the arms of a therapist…
Gender:
I identify as a gift card
Apache Attack Helicopter
Cis gender lizard king
A human being
F**king white male
V22 Osprey
DID YOU JUST F**KING ASK FOR MY GENDER
F-16 Fighter Jet
Pansexual attack helicopter
Non-cookie-cutter cis-furry dragonkin. Don't judge.
Quasi-Demi-poney; bankai-released state queercopter with a hint of faggotdrag lesbian and homosexual upside-down Frappuccino cake
I'm just here for the gift card
Race/Ethnic Identity
I'm an ethnic gift card.
My skin color is not important
Afro/Klingon-Asicatic Galapogayation
AH-64 Apache
Republican
Come on man, these questions are stupid. Everyone is a grab bag of genetics from all over the world
I'm a Swedish Muslim
Native American (Elizabeth Warren)
Pansexual attack helicopter
Cracker
Colored Native Mix w/oppressed ancestors
Born white but I spend a lot of time in the sun so I identify as a light skin black male
My skin is blue, I think I might be a smurf
Disability
I don't have enough gift cards
My country is run by communists
Being 2.86% white
Pedophilia
Gender disphoria
Thinking I'm not a man
Being trans
That I'm a tranny
I'm mentally retarded
I have hands where my feet are and feet where my hands are
Like all transgenders, my disability is the inability to come to terms with biological reality. Madness, essentially.
Open-Ended Responses
I am trans obviously I will have a job regardless of my skills thanks to diversity quotas inspired by surveys such as these
I don't actually have any skills I'm just a diversity "affirmative action" student
You're ruining genuine scientific disciplines here. There are two genders, male and female. If an engineer creates a bolt and a nut but then whimsically labels them, then they're not that great of an engineer.
I wish people in universities (especially the faculty) would not focus so much on gender and identity. That doesn't matter. Just let people do their thing and teach them how to do Gauss eliminations and whatnot
Just think: If your wisecracks in our comments are potent enough, you too may find yourself quoted in an alarmist paper at the esteemed Bulletin of Applied Transgender Studies.
Read more at: ZeroHedge.com
Submit a correction >>